2022 Mercedes-Benz CLS Review
Only a few things are more enjoyable than hearing a new hit song for the first time. The adrenaline rush, the infectious jangle of the guitar, and the urgency to rewind and hear it all over again can bring a smile to your face.
One chart-topping groove which rivals that feeling is the sound of a 2022 Mercedes-Benz CLS engine motoring around Scarborough, Saco, and Portland, ME. Read this 2022 Mercedes-Benz CLS review by Mercedes-Benz of Scarborough to learn more.
---
Greatest Hits: 2022 Mercedes-Benz CLS
| | |
| --- | --- |
| 2022 CLS Features | How They Measure up |
| Maximum Horsepower | 362 |
| Top Speed | 130 MPH |
| Leather Upholstery | Standard |
| Head-Up Display | Available |
---
Turn the Purr of an Engine into the Song of the Summer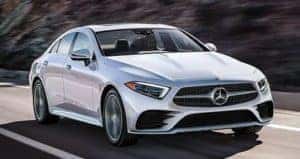 Just like unwrapping the plastic from a vinyl record and running your hands along its cover art, stepping inside the 2022 CLS opens a world of possibilities. When its engine starts, you'll hear the same magic as the vinyl crackling while the turntable spins.
When it comes to the luxury coupe, these motions are the revolutions of its 3.0L inline-6 turbo engine with a 48-volt mild hybrid system. When you press its accelerator, it kicks into gear with the resonance of a bass drum:
Up to 362 horsepower
Up to 369 lb-ft of torque
0 to 60 MPH in 4.8 seconds
Up to 130 MPH
Drivers on the open road can feel how this thunderclap settles into a smooth groove, thanks to a 9G-TRONIC 9-speed automatic transmission. This versatile transmission turns into a maestro that orchestrates the coupe's powertrain.
You can change the frequency by flipping the switch on the DYNAMIC SELECT, which lets you alter the drive mode of the vehicle to fit the road ahead.
---
Luxury Reverberates Throughout Every Corner
It's easy to fall in sync with the 2022 CLS. Each corner is crafted with luxury in mind, allowing drivers to relax as they tour the Maine coast. This includes standard luxury amenities, such as:
Leather upholstery
Heated front seats
64-color ambient lighting
Sunroof
You'll feel at ease throughout the year. Relax when you slide into its leather upholstery. If Old Man Winter wants to ride along, just activate the coupe's heated front seats with memory and lumbar support.
While its seating helps you feel comfortable, the coupe's lighting can also be altered to fit the scene. You can opt for any shade of the 64-color ambient lighting or for a natural look after you open its sunroof.
---
Technology Takes Center Stage
If you are driving as a solo act, you won't be alone on your trip. Our review of the 2022 Mercedes-Benz CLS found that its technology is a tour manager who stays on call:
Mercedes-Benz User Experience (MBUX) infotainment system
Smartphone integration with Apple CarPlay® and Android Auto®
12.3-inch center touchscreen
12.3-inch digital instrument cluster
Like a singer urging his crowd to sing with the chorus, use Voice Control with Natural Language Understanding to command the MBUX. It understands instructions with your tone of voice.
When you drive the coupe, you'll also get to write the setlist. Smartphone integration with Apple CarPlay® and Android Auto® lets you play your favorite podcasts and playlists while you drive.
---
Schedule a Test Drive
Every inch of the 2022 CLS could headline a solo tour. Our 2022 Mercedes-Benz CLS review shows that when different parts of the vehicle band together, you'll be behind the wheel of an instant classic.
If you live near Scarborough, Saco, or Portland, Maine, schedule a test drive at Mercedes-Benz of Scarborough to fall into a groove with the 2022 CLS.