How Many Miles to Change Synthetic Motor Oil?

---
It's a typical day for you. You hop into your car, heading towards your normal Scarborough, Saco, and Portland, Maine, routes, when you see your service interval light illuminate on your dash. Seeing this now makes you pay closer attention to the increased noise in your vehicle's engine. You continue driving to work. When you get there, you check the odometer.
If you've driven 5,000 to 10,000 miles since your last synthetic motor oil replacement, it may be time for another! To learn more about this common service, continue reading this guide provided by your friends at Mercedes-Benz of Scarborough.
---
​
What is a Synthetic Motor Oil Replacement?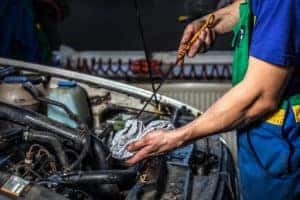 While there are several fluids in your vehicle, synthetic oil refers to your car's engine oil. Synthetic oil needs to be drained and replenished on a regular basis to ensure your engine's optimal health and performance.
Synthetic oil protects all moving parts in your vehicle's engine. It properly lubricates all engine components, which prevents them from rubbing up against each other and causing damage. So, when your car's synthetic oil becomes old or dirty, it can sludge up the engine and, ultimately, stop being effective.
During a synthetic motor oil replacement, the synthetic oil is replaced and so is the synthetic oil filter. A synthetic oil filter removes possible contaminants and debris from the synthetic motor oil before it passes through the engine.
How Often Does My Car Need a Synthetic Motor Oil Replacement?
To reiterate, you can drive anywhere from 5,000 to 10,000 miles before needing a synthetic motor oil replacement! You can also consult your owner's manual for a model-specific interval. Talking to your trusted technician can also give you an idea of when your next synthetic oil replacement is coming up.
Signs You Need a Synthetic Oil Replacement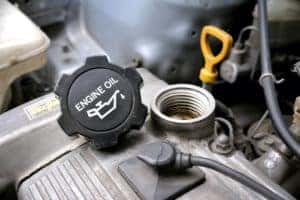 Wondering if your Mercedes-Benz needs a synthetic motor oil replacement? If it's time for this service, your service center may notify you. Your window sticker may also say you're overdue!
There are also a few performance differences you may notice if a synthetic oil replacement is due, including:
Increased engine noise—May sound like knocking, grinding, or ticking.
You smell something burning in your car—Old, grimy oil can cause an odd scent in the cabin.
The consistency of the synthetic oil has changed—Look for dark color or grit in the synthetic oil.
Low oil levels—When checking the consistency, also check the oil level.
Check Engine light is on—This dashboard light can point to many things; however, in conjunction with several other signs, you may need a synthetic oil replacement.
Have you noticed any of these signs? If so, schedule service with us as soon as possible.
Our Synthetic Oil Replacement Services
When you need a synthetic motor oil replacement, schedule with our trusted service center! We have a team of certified technicians who are familiar with all Mercedes-Benz models, like yours. They have the wisdom, the tools, and the proper synthetic oil for your vehicle.
You can easily schedule maintenance with us online or over the phone.
---
Schedule Your Synthetic Oil Replacement Today
If it's been 5,000 to 10,000 miles since your last synthetic oil replacement, it's time to schedule another! Put your trust in Mercedes-Benz of Scarborough to get the job done. All you have to do is make an appointment, and then visit our service center near Scarborough, Saco, and Portland, ME.
---