How to Change Brake Pads

---
It's no secret how important the brakes of our vehicle are. That's why it's also crucial to know how to handle your brakes once they've started to wear and break down.
One of the most important services Scarborough, Saco, and Portland, Maine, drivers can do for their vehicles is changing the brake pads. Below, our team at Mercedes-Benz of Scarborough will help you know when your brake pads are in need of repair and provide a step-by-step breakdown of how to change your brake pads.
---
---
​
Signs You Need Brake Pad Repair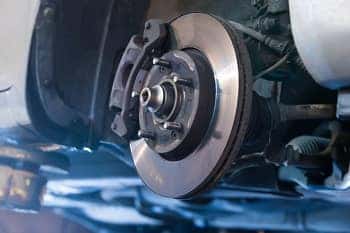 In order to know when it's time to change your brake pads, you'll need to be able to identify when your brakes have reached the end of their lifespan. Luckily, there are plenty of signs that'll let you know that it's time for brake repair.
Some of these signs may point to a different problem with your brakes, but for the most part, they will mean that your brake pads might need to be changed. They include:
Grinding or Screeching Noises
Unresponsive Brakes
Vibrating Brake Pedal
Vehicle Pulling to One Side When Braking
Brake Warning Light
If you start to see any of these signs, then your brakes likely need to be repaired as soon as possible. You can always start with an inspection of your brakes to determine the source of the problem.
Steps to Changing Brake Pads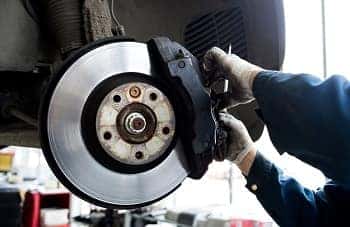 If you've chosen to change your brake pads in your own driveway, it's crucial to make sure you have all the necessary tools and equipment. Once you're all set to get started, you'll want to follow these steps:
Loosen the lug nuts on the wheel & place the jack beneath the car.
Remove the lug nuts and the wheel.
Remove the caliper bolts.
Remove the old brake pads from the caliper.
Apply brake grease to the metal plates on the brake pads.
Slide in the new brake pads.
Retract the pistons, adjust the caliper assembly, and tighten the bolts back in place.
Replace the wheel, tighten the lug nuts, and remove the jack.
For more detailed instructions on all these steps, you'll want to consult your vehicle's owner's manual ahead of time and throughout the entire process.
Reliable Brake Pad Changes
If you're not interested in performing this service yourself, the team at our Mercedes-Benz service center is always here to help. Each member of our service team is factory-trained and certified to provide your ride with all the brake services it needs.
The next time your brake pads need to be changed, all you need to do is schedule a service appointment using our online form. From there, our team of experts will take care of the rest.
---
Learn More About Your Brake Pads
Whether you're making a repair on your own brake pads or need to schedule a service appointment, our team at Mercedes-Benz of Scarborough is here to help.
To schedule brake repair near Scarborough, Saco, and Portland, ME, contact us today!
---