What is Synthetic Oil?

---
You've heard the term "a well-oiled machine," and our team at Mercedes-Benz of Scarborough is here to break it down for you. All Scarborough, Saco, and Portland, Maine, Mercedes-Benz drivers can learn more about synthetic oil, its benefits, and the signs of a needing
synthetic oil replacement
below.
---
---
​
Synthetic Oil 101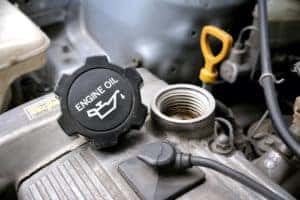 Synthetic oil was developed in 1929, and it has been improved recently to help drive better vehicle efficiency. It is a man-made lubricant that consists of artificial chemical compounds. They are created from chemically modified materials with a distilled crude oil base. Some additives may be mixed in depending on the producer.
In simpler terms, they are a cleaner motor oil, and they are a substitute for petroleum-based oils, also known as conventional oil.
Since its creation, synthetic oil has been used in daily drivers, high-performance vehicles, and even, aircraft. It's also the only choice of oil for your Mercedes-Benz.
The Benefits of Synthetic Oil
As an alternative to conventional oil, you may be wondering why synthetic oil is more beneficial than petroleum-based oils. For starters, synthetic oil is less likely to acidify and oxidize, and it's harder to break down because of its higher quality base oils.
Other benefits include:
Greater Engine Protection—Motor oil acts as a protective barrier between all of an engine's working parts. Because of their high-quality materials, synthetic oils have greater longevity and will provide protection for longer periods.
Cleaner Engine—Synthetic oils contain fewer impurities than conventional oil. This allows it to resist sludge and deposit formation, which will keep your engine healthy for miles.
Better Viscosity—During all weather conditions, synthetic oil performs better due to its thinner viscosity. It can flow easily during winter weather, and it can perform under grueling heat.
Turbocharger Protection—Synthetic oil is perfect for vehicles with turbochargers and smaller engines because of its quick flow rate. This type of motor oil will create the proper lubrication needed to experience peak performance.
Interested in learning even more perks of synthetic oil? Give us a call today.
Does My Mercedes-Benz Need a Synthetic Motor Oil Replacement?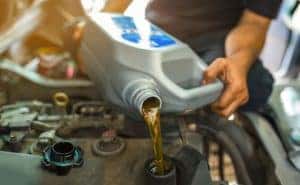 All Mercedes-Benz models will need synthetic motor oil replacements to keep them performing like new. While you can keep up with this via your vehicle's maintenance schedule, you can also keep a look out for any of these warning signs.
While Driving
If your Mercedes-Benz needs a synthetic oil replacement, you may hear increased engine noise. It can present itself as knocking or ticking. You may also notice that your Check Engine Light is on. While this dashboard light may point to various other issues, it could mean it's time for a synthetic oil replacement. Consult your maintenance schedule or a service technician to confirm.
As you're driving, you may smell oil in the cabin if you're in need of this service. Plus, you may experience shaking while idling or transmission shifting issues.
Exterior Signs
Was there a puddle of oil underneath your car? Did you notice a trail of smoke following your car instead of regular exhaust? Looks like you may be experiencing synthetic oil complications and may need a synthetic motor oil replacement. Schedule an appointment with us as soon as possible.
Under the Hood
If you've noticed a shift in performance and you feel comfortable looking under the hood, you can check for any of these warning signs:
Low oil levels
Oil film in the engine bay
Particles in the oil
Oil is a milky consistency
Want us to give it a look? Visit our Mercedes-Benz service center for a checkup and maintenance today.
---
Learn More About Synthetic Oil Now
The service technicians at Mercedes-Benz of Scarborough are ready to make your Mercedes-Benz a well-oiled machine. If you're interested in learning more about synthetic oil or want to schedule an appointment, visit our service center near Scarborough, Saco, and Portland, ME, today.
---